Doing It Since 2001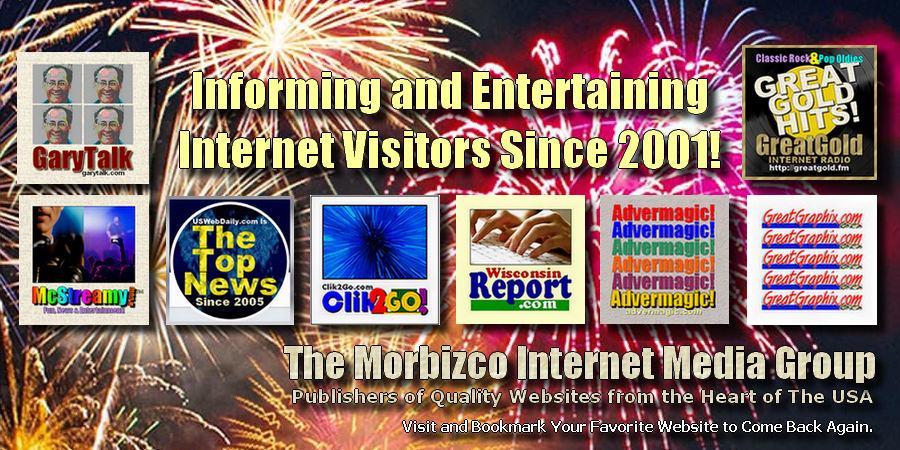 The Morbizco Internet Media Group publishes news, info, and entertainment websites from The Heart of the USA under several domain names. Our websites are available to Internet visitors in all 50 states of the country, plus the rest of the World. We've been doing it since the Turn of the Century, from the 20th to the 21st Century.
You're welcome to stop in to browse and visit at any or all of our domains anytime, day or night. Do it as often as you like. Favorite us so you can come back, easily, anytime. While you're at it, Share Us with your friends.
We Publish the following: Clik2Go.com Internet Portal Since 2002; WisconsinReport.com Independent News and Info Since 2001; GreatGold.fm Internet Radio Since 2008; USWebDaily.com Since 2005 (The home of TheTopNews.net); McStreamy.com News, Info and Entertainment Since 2010; Advermagic.com Internet Advertising Since 2001; GreatGraphix.com Websites and Website Graphics Since 2003; and GaryTalk.com Conversations and Commentary Since 2003. SEE MORE ABOUT OUR CURRENT SITES INSIDE. Click or Tap on items in the Main Menu at the top of any page for more info.
All of our websites are completely compatible with desktop computers, laptops, tablets and Smartphone technology.
WE ARE THE MORBIZCO INTERNET MEDIA GROUP – The Internet People Since 2001. 
We Believe in Truth, Values, Honor, Equality, Empathy and Compassion.
All Morbizco Internet Media Group Websites are Created, Maintained and Hosted on our own servers In The USA by Morbizco, a not-for-profit organization operated in the public interest to entertain and inform worldwide Internet visitors.