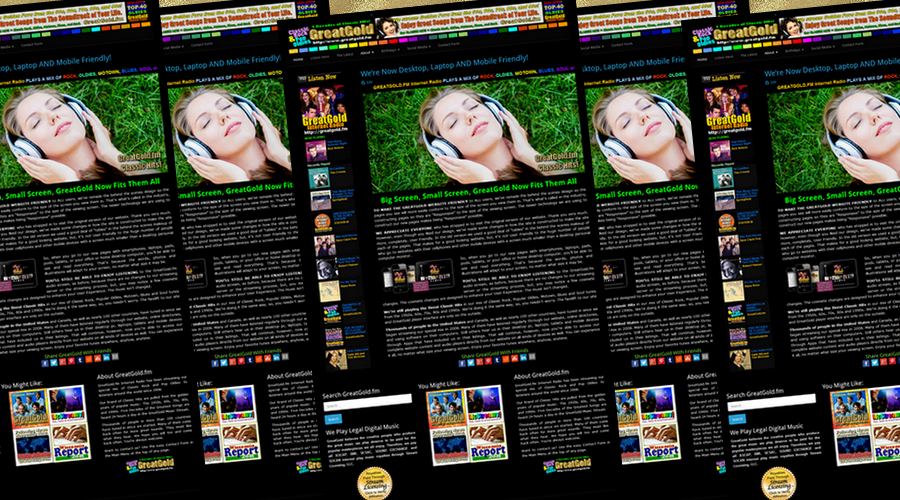 MORBIZCO.COM – One of the websites in the Morbizco Website Family, GreatGold.fm Internet Radio has been streaming the Best Internet Oldies Mix to Desktop PCs and laptops, since 2008, but, as of today, GreatGold has also joined the Mobile Friendly World. We've been working behind the scenes for months to update and upgrade our website so it is responsive to every size monitor screen, large, medium, and now the small screens of the wireless, digital, cellphones that so many of you are using to visit websites.
No matter which internet address you use to get to our newly upgraded webpages, greatgold.fm, classichitoldies.com, greatgoldhits.com, or greatgoldmusic.com, they all end up right here at the GreatGold.fm domain name. That way you can be assured that no matter what kind of device you use or what internet address you use to get here, the content, including images, will all fit inside the screen of your device, large,medium or small. Give it a try. You'll see what we mean.
Depending on which poll, survey, or study, you wish to use, statistically, somewhere in the neighborhood of up to half of the people who go to websites on the internet these days, are doing so using a mobile device of some kind. So, we have done our best to make it possible for you to do that with our GreatGold.fm Internet Radio website, too.
In doing so, we've tried to keep the best of the look and feel of the GreatGold.fm internet website of old, but, out of necessity we needed to make some minor changes to facilitate the changeover to the more responsive version of our site. In some cases, we needed to make some adjustments and compromises in order to come up with the end result, which we hope you will enjoy as much, or, perhaps, better than the original pages before the new version of our site appeared.
If you would like to learn more about the New Version of our GreatGold.fm website, check out some of the articles listed in our Main Menu near the top of every page: Home, The Latest, About, Birthdays, Social Media, and Contact Form. Many of the categories shown have drop-down listings of articles found under the categories. Select the one you want to go to and click on it to swiftly be taken to that article.
We have done our best to make sure the bumps were smoothed out before we launched the new version of our website, however, you might run into something in your travels through our new site that you may want to make us aware of, so we can fix it. Please use our Contact Form to let us know. Thank you for your help.
Great Listening and Good Reading to you from GreatGold.fm.
Go to the GREATGOLD.FM CLASSIC HIT OLDIES Internet Radio website to learn more.