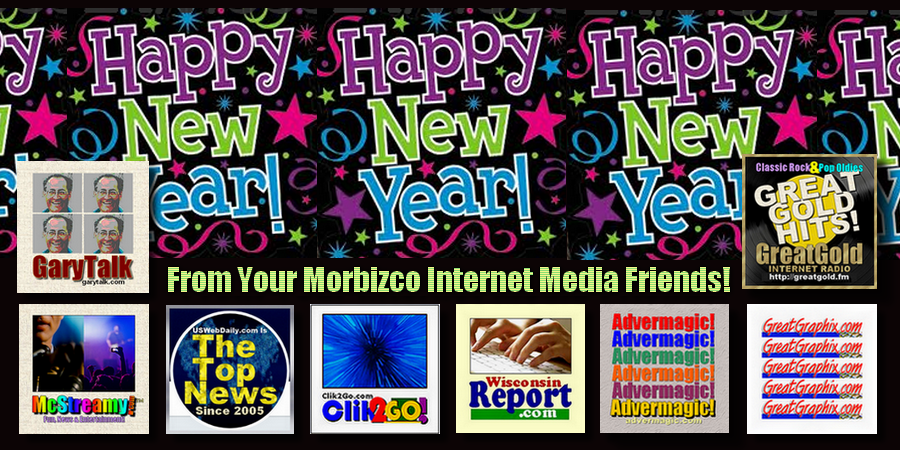 MORBIZCO – The Morbizco Internet Media Group wishes you and yours a Happy New Year during 2020, a year that is sure to bring excitement and plenty of wonder and surprises. We hope you take some time out from your busy life to visit our websites as often as you like during this New Year. There are many things to enjoy whether you like to read to gain news and information or hear your favorite music over the internet, or both at the same time.
If music is your preference we would be happy to have you sample our GreatGold Classic Hits Mix of Classic Rock, Pop Oldies and Classic Hit Wannabees in our Internet Radio station. You'll find it 24 hours a day and night, seven days a week, 365 days a year during 2020. The music in our extensive library is pulled from 6 plus decades from the 1950s, through the 1960s, 70s, 80s, 90s, 2000s, and 2010s. Listen with desktop computers, laptops, tablets, and Smartphones.
In addition, GreatGold gives Extra Plays to singers and musicians born during the month in which you listen. Plus, at certain times during the year, GreatGold puts a spotlight on special songs from our seasonal and holiday files to add some spice. You can listen while visiting our website at http://GreatGold.fm Internet Radio or search for "greatgold" or "greatgold.fm" in your favorite Mobile App. See our APPS list on the GreatGold website to download one of the Apps that carries our GreatGold Music stream.
If you like to keep informed we provide the latest news, sports, and entertainment news on two different website domains. USWebDaily continues to present the latest news from 140 different, quality, internet news operations. The news is gathered from news sites four times an hour throughout the day and night to make sure you have the latest in your browser whenever you visit http://TheTopNews.Net/. You can just take it as it comes, or, we do it in twelve categories to help you narrow in on the kind of information you're seeking. It's your choice. Plus the news is searchable.
There are three more news sites that you should check out if you are not familiar with those choices yet.
McStreamy.com presents the latest news, sports, music, tv show, and motion picture news throughout the day and night in a format you might like at http://McStreamy.com. Plus, there are several McStreamy Original Exclusive articles to read every month. You'll enjoy the ease of navigating around the McStreamy website and the photos that accompany, both the original news stories and the selections that are presented brought in from other reputable news operations. McStreamy.com is completely friendly to desktop computers, laptops, tablets, smartphones, and other digital devices.
The Clik2Go.com Internet Portal is the place to go to on the internet for a different presentation of news, sports and entertainment news that you might like. Cllik2Go has been at it since 2003 when it took over from our original USWebWorld domain, which we no longer operate. All of the individual aggregated news stories provide a link for you to go to the complete story to get all of the details after you read the opening sentences to decide if you want to learn more.
The other news website is limited to mostly news about people, places, and events in and of interest to readers mainly interested in news of or about what's happening in the State of Wisconsin, USA. Be sure to check-in at the http://WisconsinReport.com often to read the news teasers, summaries, and headlines. Not affiliated with Wisconsin Government or any other website with Wisconsin in its name, our Wisconsin Report does its best to remain unhampered by unwanted influences. To easily find us next time, make us Your Favorite and Place Us On Your Bookmark Bar or Home Screen.
No matter which you choose, The Morbizco Internet Media Group websites are here to help you be entertained and better informed, accurately, efficiently, easier and faster.