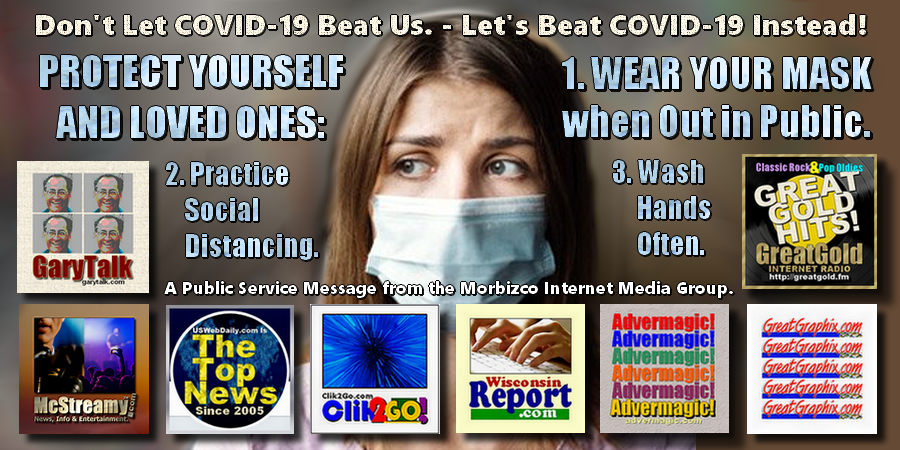 MORBIZCO – It's TRUE! Wearing a protective mask against COVID-19 does PROTECT YOU, YOUR LOVED ONES, YOUR FRIENDS, AND PEOPLE YOU DON'T EVEN KNOW! Wear YOUR Anti-Covid-19 Mask whenever you venture out in public and practice the other safety measures. The virus is REAL NEWS, dreadful news for everyone on this earth, no matter what political affiliation, or voter preference and seems to have become an even bigger problem for life in the United States. The COVID-19 scare is real. People have died, are dying, and will die, before this Pandemic is over. We must ALL do our responsible part for a better outcome than we have been experiencing since the nightmare began.
The Anti-COVID Vaccine will be a great help in eventually easing the spread of the virus, but it will take some time to vaccinate enough people to provide thorough protection outside among the masses. Therefore, even after you receive a vaccination, it is important to continue to wear an anti-covid-19 mask wherever you go, and continue with all of the other common-sense precautions, until health authorities give everyone the all-clear sometime in the future. Don't think all of a sudden you're immune because you've been vaccinated. Stay vigilant until it's safe.
As of Thursday, July 2, 2020, the World Health Organization tally showed the COVID-19 Pandemic included 216 countries, areas or territories with a total of 10,710,005 confirmed cases of the virus. There were more than a half million deaths (517,877 people of all ages). The following day, July 3, 2020, Johns Hopkins University reported 10,976,026 worldwide cases, and 523,562 total deaths in 188 countries and regions of the world.
The Johns Hopkins running tally shows nearly 2.8 million (2,780,916) were confirmed in the United States alone as of that July 3, 2020 Johns Hopkins tally, and COVID-19 has been a key factor in the deaths of 129,227 people living in the United States of America. That's more than 25% of all the deaths in the world took place in the U.S., as of July 3, 2020. And the cases and deaths constantly continue upward.
The COVID-19, nearly invisible monster, which ravages the bodies of its victims is likely to be with us for a long time, until the medical, research and scientific communities come up with a successful vaccine to eradicate it so it no longer is something to fear. We must ALL do our part to help ease the burden to save as many people as we can before COVID-19 comes to an end. Wear anti-COVID-19 face masks, practice social distancing, wash your hands often, and follow the other guidelines developed by medical professionals.
More information about COVID-19 on many of our Morbizco Internet Media Group websites, including McStreamy.com, Clik2Go.com, TheTopNews.Net, USWebDaily.com, WisconsinReport.com, and others. Additional knowledge can be found on http://coronavirus.gov/, http://www.cdc.gov/, http://www.who.int/, and other health organization and agency websites.
Among other things contained on our McStreamy.com website there is a page that shows real time COVID-19 Pandemic figures as updated by Johns Hopkins University. You may find it at http://mcstreamy.com/wp/one/live-coronavirus-covid-19-worldwide-statistics/.
If you wish to find the latest COVID-19 news stories from reputable sources, search for them at our USWebDaily.com and TheTopNews.Net merged website. For example, try this search: COVID-19 or Coronavirus News Stories. USWebDaily.com has been provding this reputable news gathering service since 2005. TheTopNews.Net merged with USWebDaily at the end of 2018, and continues the traditions of USWebDaily.
More details may follow in this space about this topic or, from time to time, others.  You're welcome to come back later to read further, should more words be added. In the meantime, please use all Morbizco Internet Media websites from time to time to enjoy the great tunes from the 1950s through the 2000s and beyond at GreatGold.fm Internet Radio (Click/Tap on LISTEN NOW to go to the online player), and to keep fully informed about the available news and information of today, and tomorrow at Clik2Go.com, McStreamy.com, TheTopNews and USWebDaily, WisconsinReport.com, or one of our other websites.
Thanks for using our websites. Please spread the word to your friends and neighbors.