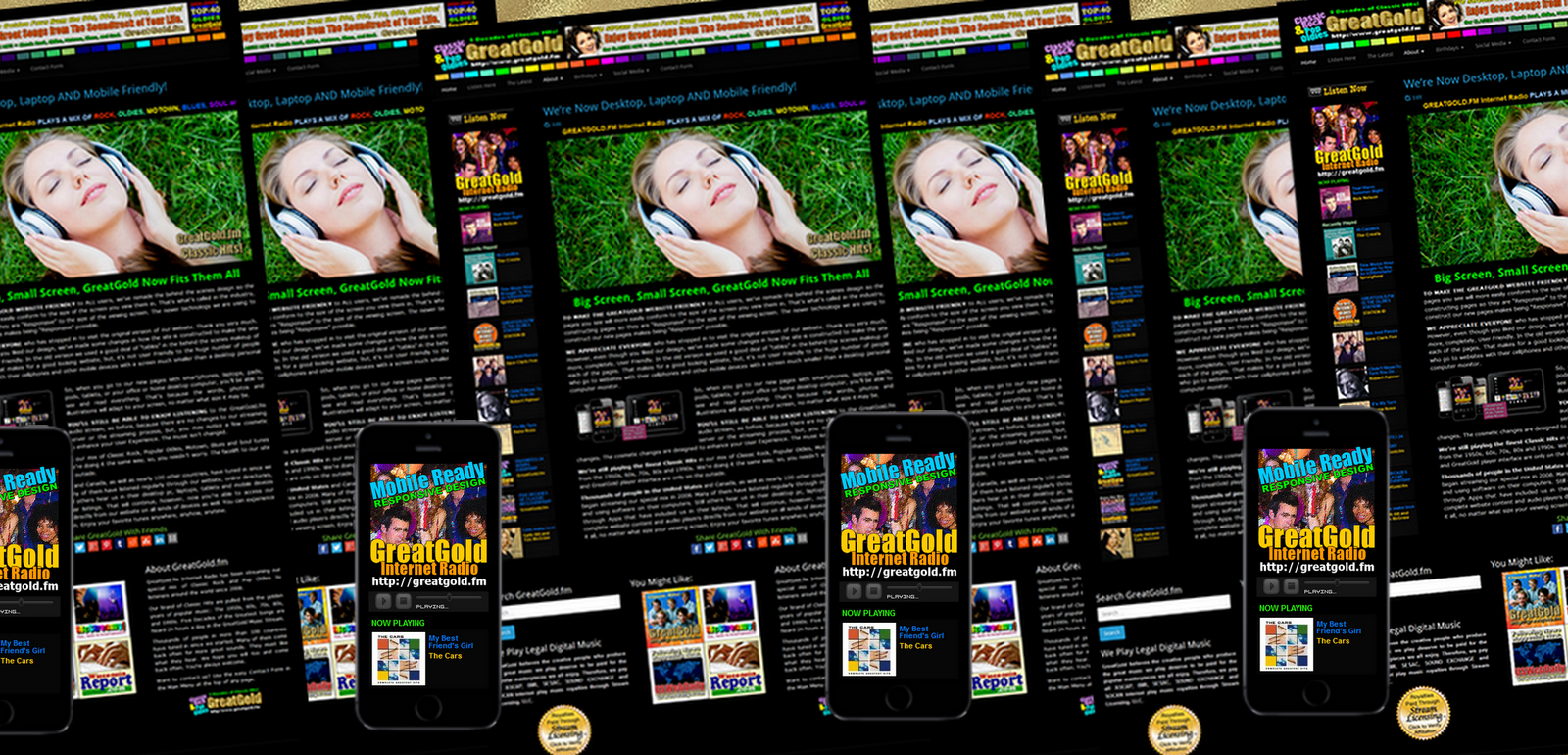 MORBIZCO.COM – Morbizco has changed over another website to the Mobile Ready, Mobile Friendly category. Our company owned GreatGold.fm Internet Radio station website was opened up to the public on the internet in 2008 in it's original form. However, as of August 3, 2015 it has upgraded to it's new Mobile Ready, Responsive Design version. The streaming radio station has been playing the best Classic Hit Oldies and Gold Gold Hits from the 1950s, 60s, 70s, 80s and 1990s since 2008. With the recent Upgrade the site is now ready for a new chapter of enjoyment.
The modern world of the internet, statistically sees a large percentage of people going to websites these days on mobile devices. As a result of that finding, during the last few months we've been spending a lot of time upgrading our most visited websites to make them more accessible by everyone, whether visitors view the sites on a desktop computer, laptop, tablet, smartphone, pad, pod, or what-have-you. Now GreatGold.fm has joined Morbizco.com, USWebDaily.com, McStreamy.com, and WisconsinReport.com, the other most recent Morbizco websites that have been modernized.
The changes to the GreatGold.fm website enable people to go to our new pages with smartphones, laptops, pads, pods, tablets, or office or home desktop computers and see and read everything. That's because the words, photos and illustrations adapt to the monitor screen, no matter what size it may be, big, medium size or small.
Even though it will be more pleasing to visit the GreatGold.fm website in more devices than before, the audio stream, continues as before, because there are no changes to the streaming server or the streaming process. The cosmetic changes are designed to enhance the User Experience. The music isn't changed. GreatGold.fm is still playing the finest Classic Hits mix of Classic Rock, Popular Oldies, Motown, Blues and Soul tunes from the 1950s, 60s, 70s, 80s and 1990s. The facelift, which is the result of the newer Responsive Design, is only on the outside.
Thousands of people in the United States and Canada, as well as nearly 100 other countries, have tuned in since GreatGold began streaming the special mix in 2008. Many of them have listened regularly through our website, online directories, and using software on their computers. Still others hear us in their desktop pc, laptops, tablets and mobile devices through Apps that have included us in their listings. That will continue, however, now they are able to access the complete website content and audio players directly from our website on all kinds of devices as well.
Other sites in the Morbizco Website Family to get facelifts in the near future include Advermagic.com, Clik2Go.com, and GreatGraphix.com, although, not necessarily in that order.
Go to the GREATGOLD.FM CLASSIC HIT OLDIES Internet Radio website to learn more.